Toys

EARLY LEARNING

Rattle and teething ring

Activity arch and toys

Learning toys

DOLLS

Soft toys and cudly toys

Dolls

Maileg & Co

TOYS

Wooden toys

Imitation games

Toys dinner

Roll up toys

Toys for older children

OUTDOOR TOYS

Beach and sand toys

Garden and nature toys

AGE

0-6 months

6-12 months

12-36 months

3-6 years

6+

8+

Clothes

CLOTHES

Jumpsuit, Rompers

T-shirts, Blouses

Dresses, Skirt

Shorts , Bloomers

Pants, Leggings

Sweaters, Jacket

SEASON

Swimwear

Caps, hats and sunglasses

Rainy days

Hats, bonnets, mittens

ACCESSORIES

Caps, hats and sunglasses

Scarves

Shoes

Hats, bonnets, mittens

Tights, socks

Jewelry, hair accessories

Deco

DECORATING

Decorative objects

Wall Decorations

Lamps

Stationery

HOME

Home textiles

Baskets, nests and baskets

Carpets

Storages

Little furnitures

Baskets, bags and cases

Muslin Cloths, Blankets

Back to school

Bathtime

BATHTIME

Skincare

Bath linen

Bath toy

Toilet bags

Accessories

Diaper time

Jewelry, Hair

Make-up

Pots, steps, etc...

BRANDS

Meraki

Inuwet

Kenko

Alma

Liewood

Konges Slojd

MEALTIME

MEALTIME

Dinner sets and plates

Accessoires

Gourds, Glasses & Cups

Bibs

Zero Waste and picnic

Bottles

Ice cream and cake moulds

BRANDS

Haps Nordic

Konges Slojd

Liewood

Élhée

Parents

PARENTS

Bags and kits

Woman

Care

Nursing cushions

Men

Going out with baby

Topic

SEE ALL

Lemon

Cherry

Mon Amour

Dinosaur

Shell

Peach

Christmas night

Summer

SEE ALL

Beach and sand toys

Garden and nature toys

Inflatables, buoys, swimming pools...

Beach sandals and flip-flops

Foutas, towels

Bottles

Caps, hats

Sunglasses

Anti-UV swimsuits and t-shirts

Protections solaires

BRANDS

Blafre

Elle Porte

Garbo&Friends

Hello Hossy

Konges Slojd

Liewood

Linea Mamma Baby

Meraki

VanPauline
This website uses its own and third-party cookies to improve our services and show you advertising related to your preferences by analyzing your browsing habits. To give your consent to its use, press the Accept button.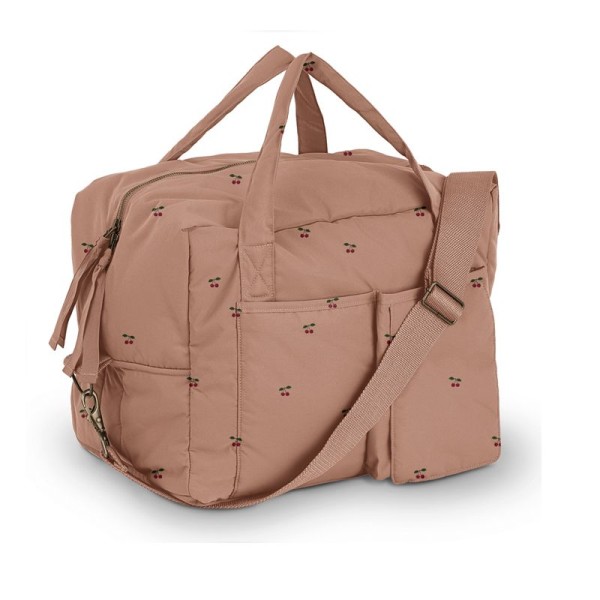  
Mommy bag cherry blush
Mommy bag cherry blush Konges Slojd

Material : 100% polyester Oeko-Tex, lining 100% cotton Oeko-Tex
Size: 30x39x25 cm
Color: cherry blush
The changing bag has a removable changing mat, an insulated compartment, as well as a pocket with an easy opening on the front of the bag to quickly grab a wipe.
The cherry blush changing bag from Konges Slojd has been upgraded to offer moms who want to use a changing bag that is practical but also aesthetically pleasing.
That's why the focus has been on the design, to make sure it doesn't look like an ordinary changing bag while still being practical. This one is now waterproof as it is water and windproof. You'll find large pockets on the side to fit all the daily necessities like diapers and bottles.
Inside, you will find a removable changing mat to use when your child needs to be changed. If stains ever appear on the bag, just wipe them off with a sponge.
It's as chic as it is practical, thanks to its large size and interior pockets that can hold all of baby's little things! Mom can slip in diapers, powdered milk, bottles, diapers ...
The cherry blush bag has several storage compartments to facilitate the search for a product.
This bag cherry blush can also accompany you during your stay at the maternity.
Thanks to the shoulder strap you can carry the bag on your shoulder but also hang it on the stroller.
Konges Slojd is located in Copenhagen, Denmark and stands for quality, functionality and simplicity. Konges Slojd has created a simple, Scandinavian, elegant and above all quality-conscious world for those we care about: our children.