Toys

EARLY LEARNING

Rattle and teething ring

Activity arch and toys

Learning toys

DOLLS

Soft toys and cudly toys

Dolls

Maileg & Co

TOYS

Wooden toys

Imitation games

Toys dinner

Roll up toys

Toys for older children

OUTDOOR TOYS

Beach and sand toys

Garden and nature toys

AGE

0-6 months

6-12 months

12-36 months

3-6 years

6+

8+

Clothes

CLOTHES

Jumpsuit, Rompers

T-shirts, Blouses

Dresses, Skirt

Shorts , Bloomers

Pants, Leggings

Sweaters, Jacket

SEASON

Swimwear

Caps, hats and sunglasses

Rainy days

Hats, bonnets, mittens

ACCESSORIES

Caps, hats and sunglasses

Scarves

Shoes

Hats, bonnets, mittens

Tights, socks

Jewelry, hair accessories

Deco

DECORATING

Decorative objects

Wall Decorations

Lamps

Stationery

HOME

Home textiles

Baskets, nests and baskets

Carpets

Storages

Little furnitures

Baskets, bags and cases

Muslin Cloths, Blankets

Back to school

Bathtime

BATHTIME

Skincare

Bath linen

Bath toy

Toilet bags

Accessories

Diaper time

Jewelry, Hair

Make-up

Pots, steps, etc...

BRANDS

Meraki

Inuwet

Kenko

Alma

Liewood

Konges Slojd

MEALTIME

MEALTIME

Dinner sets and plates

Accessoires

Gourds, Glasses & Cups

Bibs

Zero Waste and picnic

Bottles

Ice cream and cake moulds

BRANDS

Haps Nordic

Konges Slojd

Liewood

Élhée

Parents

PARENTS

Bags and kits

Woman

Care

Nursing cushions

Men

Going out with baby

Topic

SEE ALL

Lemon

Cherry

Mon Amour

Dinosaur

Shell

Peach

Christmas night

Summer

SEE ALL

Beach and sand toys

Garden and nature toys

Inflatables, buoys, swimming pools...

Beach sandals and flip-flops

Foutas, towels

Bottles

Caps, hats

Sunglasses

Anti-UV swimsuits and t-shirts

Protections solaires

BRANDS

Blafre

Elle Porte

Garbo&Friends

Hello Hossy

Konges Slojd

Liewood

Linea Mamma Baby

Meraki

VanPauline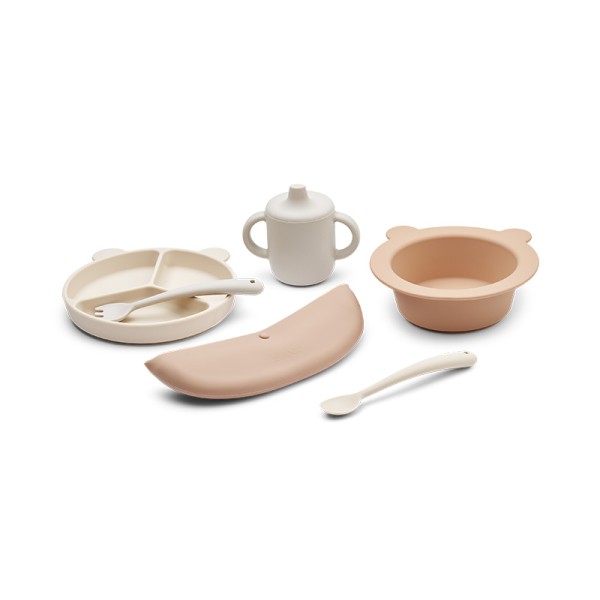  
Stina gift set pale tuscany
Stina gift set pale tuscany Liewood
Color: pale tuscany
Material : 100% silicone
Care: Dishwasher safe but not microwave safe.
The set includes, a Neil cup, a Peony suction bowl, a Siv spoon, a Scott fork, a Stacy divider plate and an Ember bib.
We have a real crush on this Stina pale tuscany dining set from Liewood. Its pale tuscany color makes us fall in love. What we really like is that the set is very complete to use for baby's first meals since it consists of a cup, a bowl, a spoon, a fork, a plate and a bib Ember. For us, it's the perfect gift to offer for a birth. So ready to fall for this Stina pale tuscany gift set?
Straight from Denmark, Liewood is a brand of accessories for babies and children. You'll find rubber toys, cotton comforters, mealtime accessories, all made from sustainable materials. Liewood has found the perfect balance to offer products that are both practical and very aesthetic.