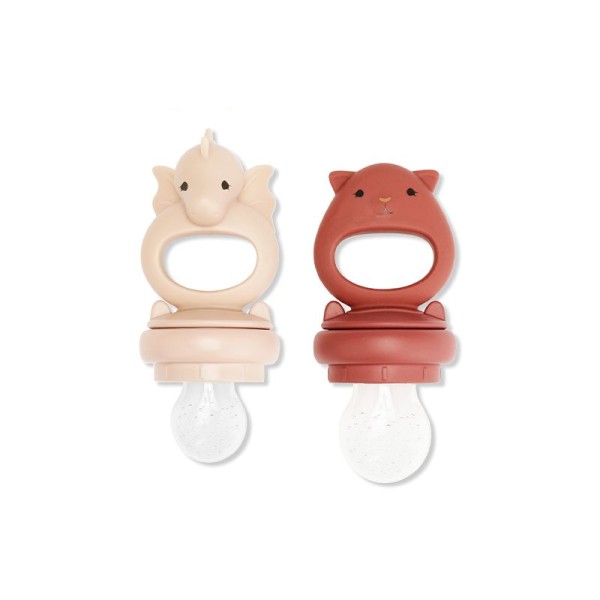  
Set of 2 fruit feeding pacifier dragon rose sand
Set of 2 fruit feeding pacifier dragon rose sand copper brown Konges Slojd
Material: 100% silicone
Colors: rose sand copper brown
Little extra : dishwasher safe
The Konges Slojd nibbler will revolutionize the way pieces are introduced into baby's diet. The nibbler can be a gentle introduction to diversification. You can slip in small pieces of fruit or vegetables or simply puree. When teething, you can slip in breast milk or frozen milk powder to soothe your child's gums.
The pink sand and red copper brown dragon nipples are easy to use and wash, just unclip them and put them directly under water. They can also be put in the dishwasher.
Make sure the nibbler is tightly closed before use. Do not overload the nipple with food; this will cause the nipple to break off and pose a choking hazard. Always stay close to the child and do not leave him/her unattended when using the pacifier.
Konges Slojd is located in Copenhagen, Denmark and stands behind the quality, functionality and simplicity of its products. Konges Slojd has created a simple, Scandinavian, elegant and above all quality-conscious world for those we care about: our children.
4 other products in the same category: