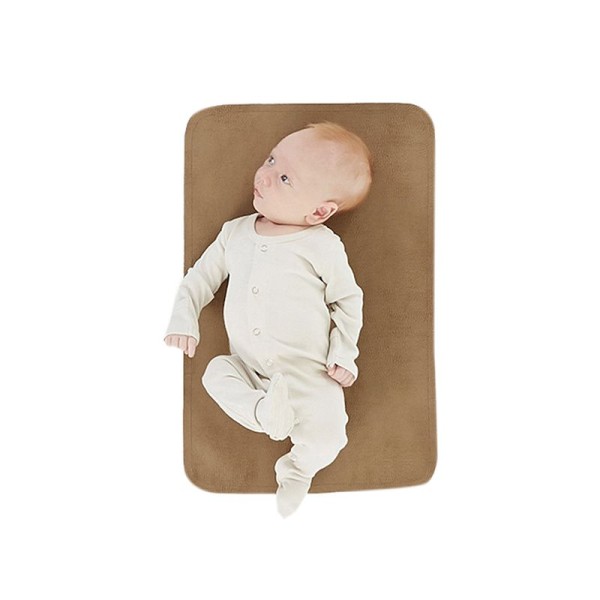  
Mat vegan leather micro + tannin
Mat vegan leather micro + tannin Gathre
Material: 28% leather, 72% synthetic material
Dimensions: 40.6 x76.2 cm
Colour: natural leather
Infos: smooth leather front, suede back. Wipeable and water-resistant
Free of toxins, PVC, phthalates and lead. Complies with CPSIA standards.
The Gathre brand has designed this washable leatherette rug for many uses. The micro + size will allow you to use it as protection and reinforcement for changing baby during your travels. You will be able to fold it and to slip it in your bag thanks to its soft material. You can also use it to protect the table during meals or painting workshops with children. It can also be used as a desk pad on the desks of older children. Easy to clean, with a simple sponge stroke, this rug will follow you everywhere. In addition to its practicality, we love the sleek and elegant design of Gathre rugs. Its natural leather colour will not tire you out.
Use a wipe, a paper towel or a damp cloth with a mild cleaner to clean the surface of the item.
- Make sure your item is dry before storing it.
- Wrinkles can be eliminated by laying it flat, hanging it up.
- Do not machine wash or iron
- Avoid permanent markers or anything containing heavy dyes.
- Beware of mineral sunscreens as they can stain the skin.
Gathre is an American brand that offers minimalist and multi-functional carpets that you can use for many moments in your life. From changing mats, to picnic tablecloths or play mats, Gathre mats will always be useful to you.
4 other products in the same category: