Toys

EARLY LEARNING

Rattle and teething ring

Activity arch and toys

Learning toys

DOLLS

Soft toys and cudly toys

Dolls

Maileg & Co

TOYS

Wooden toys

Imitation games

Roll up toys

Toys for older children

OUTDOOR TOYS

Beach and sand toys

Garden and nature toys

AGE

0-6 months

6-12 months

12-36 months

3-6 years

6+

8+

Clothes

CLOTHES

Jumpsuit, Rompers

T-shirts, Blouses

Dresses, Skirt

Shorts , Bloomers

Pants, Leggings

Sweaters, Jacket

SEASON

Swimwear

Caps, hats and sunglasses

Rainy days

Hats, bonnets, mittens

ACCESSORIES

Caps, hats and sunglasses

Scarves

Shoes

Hats, bonnets, mittens

Tights, socks

Jewelry, hair accessories

Deco

DECORATING

Decorative objects

Wall Decorations

Lamps

Stationery

HOME

Home textiles

Baskets, nests and baskets

Carpets

Storages

Little furnitures

Baskets, bags and cases

Muslin Cloths, Blankets

Back to school

Bathtime

BATHTIME

Pacifier Clips, Pacifiers for babies

Skincare

Bath linen

Bath toy

Toilet bags

Accessories

Diaper time

Jewelry, Hair

Make-up

Pots, steps, etc...

BRANDS

Meraki

Inuwet

Kenko

Alma

Liewood

Konges Slojd

MEALTIME

MEALTIME

Dinner sets and plates

Accessoires

Gourds, Glasses & Cups

Bibs

Zero Waste and picnic

Bottles

Ice cream and cake moulds

BRANDS

Haps Nordic

Konges Slojd

Liewood

Élhée

Parents

PARENTS

Bags and kits

Woman

Care

Nursing cushions

Men

Going out with baby

Topic

SEE ALL

Lemon

Cherry

Mon Amour

Dinosaur

Shell

Peach

Christmas night

Summer

SEE ALL

Beach and sand toys

Garden and nature toys

Inflatables, buoys, swimming pools...

Beach sandals and flip-flops

Foutas, towels

Bottles

Caps, hats

Sunglasses

Anti-UV swimsuits and t-shirts

Protections solaires

BRANDS

Blafre

Elle Porte

Garbo&Friends

Hello Hossy

Konges Slojd

Liewood

Linea Mamma Baby

Meraki

VanPauline
This website uses its own and third-party cookies to improve our services and show you advertising related to your preferences by analyzing your browsing habits. To give your consent to its use, press the Accept button.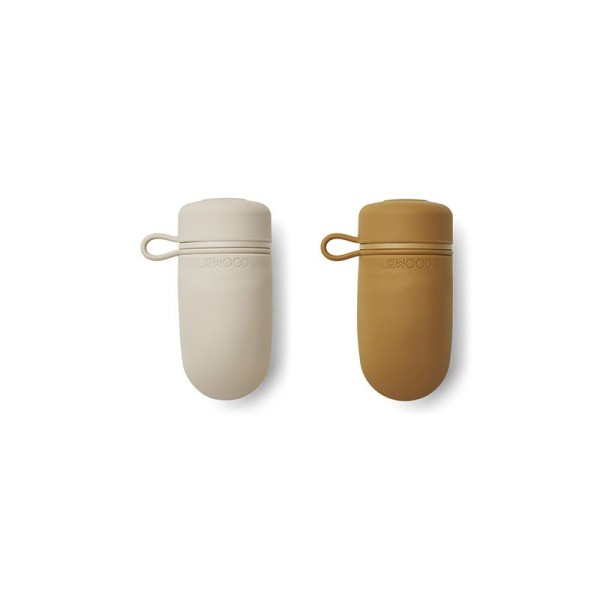  
Set of 2 smoothie bottles Tanya sandy golden caramel
Set of 2 smoothie bottles Tanya sandy golden caramel Liewood
Dimensions : 5 x 10 cm
Volume : 75 ml
Couleur : sandy golden caramel mix
Matière : 100% silicone avec un bouchon en polypropylène (PP)
Le silicone peut présenter certaines aspérités.
Testé selon les dernières normes européennes sur la sécurité alimentaire
Passe au lave-vaisselle jusqu'à 65 degrés
Ce lot de 2 gourdes à smoothie en silicone (matériaux légers et ultra résistants), couleur sandy golden caramel mix sera réutilisable à l'infini. Fini, les achats de gourdes en plastiques jetables à outrance, Liewood conçoit des gourdes saines, économiques et surtout écologiques. 
Elles sont pratiques pour mettre vos smoothies ou vos compotes pour le goûter de vos enfants. On les aime aussi pour leur côté simple puisqu'elles sont légères et faciles à transporter. 
L'avantage de ces gourdes aux couleurs dune koala mix ? Elles se composent de 3 parties facilitant le nettoyage après avoir donné vos délicieuses compotes à vos enfants. 
Tout droit venue du Danemark, Liewood est une marque d'accessoires pour bébés et enfants. Vous retrouverez des jouets en caoutchouc, des doudous en coton, des accessoires pour le repas, le tout fabriqué dans des matériaux durables. Liewood a trouvé le parfait équilibre pour proposer des produits à la fois pratiques et très esthétiques.