SCHOOL DAY

Back to school

School bags

Snack

Bottles

School kits and notebook

Office

Accessories

Toys

EARLY LEARNING

Rattle and teething ring

Activity arch and toys

Learning toys

DOLLS

Soft toys and cudly toys

Dolls

Maileg & Co

TOYS

Wooden toys

Imitation games

Toys dinner

Roll up toys

Toys for older children

OUTDOOR TOYS

Beach and sand toys

Garden and nature toys

Sports d'hiver

AGE

0-6 months

6-12 months

12-36 months

3-6 years

6+

8+

Clothes

CLOTHES

Jumpsuit, Rompers

T-shirts, Blouses

Dresses, Skirt

Shorts , Bloomers

Pants, Leggings

Sweaters, Jacket

SEASON

Swimwear

Caps, hats and sunglasses

Rainy days

Hats, bonnets, mittens

ACCESSORIES

Caps, hats and sunglasses

Scarves

Shoes

Hats, bonnets, mittens

Tights, socks

Jewelry, hair accessories

Deco

DECORATING

Decorative objects

Wall Decorations

Lamps

Stationery

HOME

Home textiles

Baskets, nests and baskets

Carpets

Storages

Little furnitures

Baskets, bags and cases

Muslin Cloths, Blankets

Back to school

Bathtime

BATHTIME

Skincare

Bath linen

Bath toy

Toilet bags

Accessories

Diaper time

Jewelry, Hair

Make-up

Pots, steps, etc...

BRANDS

Meraki

Inuwet

Kenko

Alma

Liewood

Konges Slojd

MEALTIME

MEALTIME

Dinner sets and plates

Accessoires

Gourds, Glasses & Cups

Bibs

Zero Waste and picnic

Bottles

Ice cream and cake moulds

BRANDS

Haps Nordic

Konges Slojd

Liewood

Élhée

Parents

PARENTS

Bags and kits

Woman

Care

Nursing cushions

Men

Going out with baby

Topic

SEE ALL

Lemon

Cherry

Mon Amour

Dinosaur

Shell

Peach

Christmas night

Summer

SEE ALL

Beach and sand toys

Garden and nature toys

Inflatables, buoys, swimming pools...

Beach sandals and flip-flops

Foutas, towels

Bottles

Caps, hats

Sunglasses

Anti-UV swimsuits and t-shirts

Protections solaires

BRANDS

Blafre

Elle Porte

Garbo&Friends

Hello Hossy

Konges Slojd

Liewood

Linea Mamma Baby

Meraki

VanPauline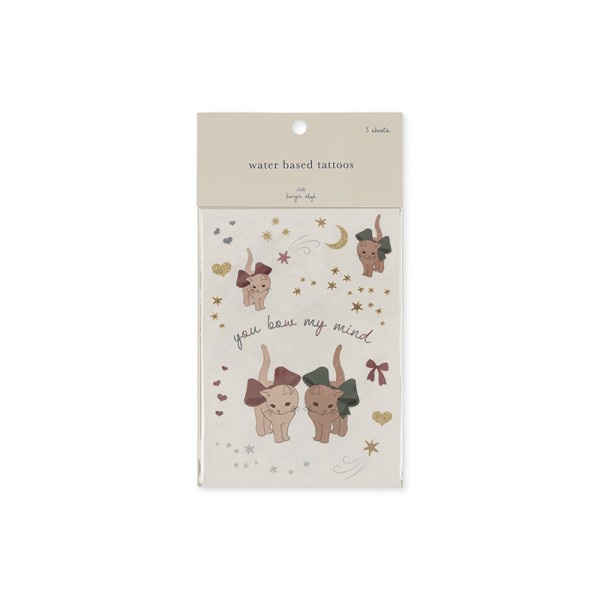  
Tattoos Du coeur
Tattoos Du coeur Konges Slojd
Ephemeral tattoos
Material: 100% FSC-certified paper.
Contains 3 sheets for over 30 tattoos
Apply with water or damp sponge for less than 30 seconds
Very easy to remove, just use soap and water
You'll love these tattoo boards for your kids. Say goodbye to the old Malabar tattoo, and discover our Konges Slojd tattoo boards. Beautiful, delicate, we love them! On the Joli Coeur version you'll find 3 plates: one on the Bunny Tokki theme (rabbit, red flowers), one on the new little cats print and finally one on the Ladybug theme. 
These tatoos are also a great idea for a birthday present for a little friend.
Konges Slojd is based in Copenhagen, Denmark, and stands behind the quality, functionality and simplicity of its products. Konges Slojd has created a simple, Scandinavian, elegant and above all quality-conscious world for those who are dear to us: our children.