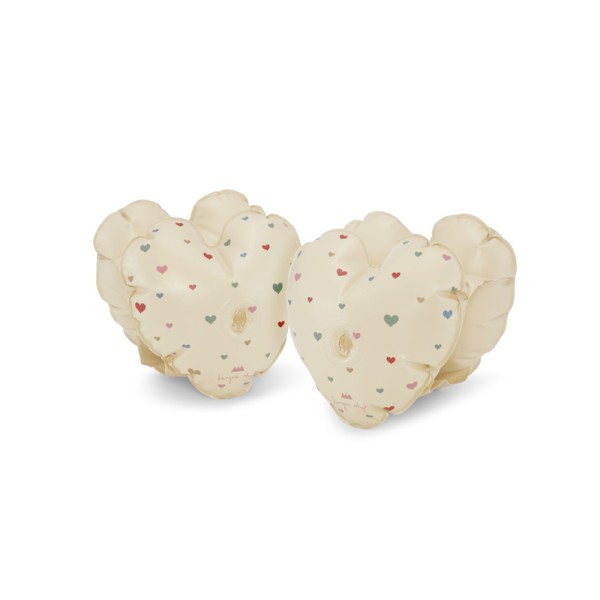  
Water wings hearts multi hearts
Water wings hearts multi hearts Konges Slojd
Material : 100% PVC
Color : multi hearts
Dimensions : 20 x 22 cm
CE tested according to the European standard EN-71-1
Made of durable and non-toxic PVC, phthalate free.
Recommended for children from 3 to 6 years old. Weight between 18 and 30kg
Use only under constant adult supervision
After use, rinse with clean water and store in a cool, dry place. Keep away from fire.
Summer is coming fast with Konges Slojd! And with it, these cute little inflatable heart armbands have arrived. The multi heart armbands are perfect to give your kids more independence in the water and let them start to feel comfortable on their own. Get ready for a lot of bombs in the pool! You can slip them into the beach or pool bag. And to vary the pleasures, you can propose to the youngest the model of junior buoy. What to enjoy the pool or the sea with pleasure.
WARNING
DOES NOT PROTECT AGAINST DROWNING. USE ONLY UNDER CONSTANT ADULT SUPERVISION. THIS IS NOT A RESCUE DEVICE. ALWAYS FULLY INFLATE ALL INNER TUBES. ALL COMPONENTS MUST BE WORN. WEAR ON THE ARM ONLY.
Konges Slojd is located in Copenhagen, Denmark and stands behind the quality, functionality and simplicity of its products. Konges Slojd has created a simple, Scandinavian, elegant and above all quality-conscious world for those we care about: our children.