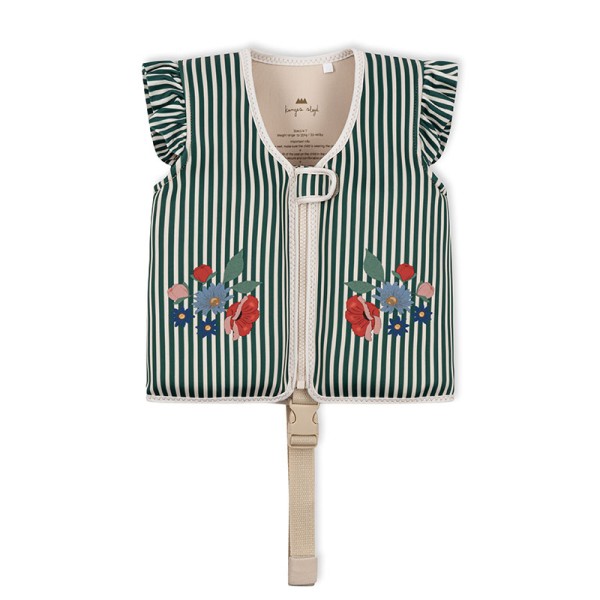  
Neoprene float vest frill bunny tokki
Neoprene float vest frill bunny tokki Konges Slojd
Color : bunny tokki
Material: 80% neoprene, 20% polyester, lining: 100% EPE foam
Details: zipper and velcro closure, safety strap at the crotch.
After use, rinse with fresh water and let air dry, avoiding heat sources and direct sunlight
Size guide: 
1-2 years: weight 11-15 kg
2-4 years: weight 15-20 kg
4-6 years: weight 20-25 kg
Again this year, Konges Slojd, has designed this cute buoyancy vest with a bunny tokki pattern. Not only is it great, it's also very safe. The bunny tokki flotation vest has a safety strap that needs to be slipped between your child's legs to keep it snug to the child's chest. The vest has several compartments in which you can slide buoyancy elements and then remove them as your child becomes comfortable in the water and can swim and float without help. The large zipper is very durable and allows you to quickly put on the vest without damaging the material. The exterior of this vest is printed with the pretty bunny tokki print and pretty ruffles on the top of the vest.
Find all our beach essentials.
Konges Slojd is located in Copenhagen, Denmark and stands behind the quality, functionality and simplicity of its products. Konges Slojd has created a simple, Scandinavian, elegant and above all quality-conscious world for those we care about: our children.