Toys

EARLY LEARNING

Rattle and teething ring

Activity arch and toys

Learning toys

DOLLS

Soft toys and cudly toys

Dolls

Maileg & Co

TOYS

Wooden toys

Imitation games

Toys dinner

Roll up toys

Toys for older children

OUTDOOR TOYS

Beach and sand toys

Garden and nature toys

AGE

0-6 months

6-12 months

12-36 months

3-6 years

6+

8+

Clothes

CLOTHES

Jumpsuit, Rompers

T-shirts, Blouses

Dresses, Skirt

Shorts , Bloomers

Pants, Leggings

Sweaters, Jacket

SEASON

Swimwear

Caps, hats and sunglasses

Rainy days

Hats, bonnets, mittens

ACCESSORIES

Caps, hats and sunglasses

Scarves

Shoes

Hats, bonnets, mittens

Tights, socks

Jewelry, hair accessories

Deco

DECORATING

Decorative objects

Wall Decorations

Lamps

Stationery

HOME

Home textiles

Baskets, nests and baskets

Carpets

Storages

Little furnitures

Baskets, bags and cases

Muslin Cloths, Blankets

Back to school

Bathtime

BATHTIME

Skincare

Bath linen

Bath toy

Toilet bags

Accessories

Diaper time

Jewelry, Hair

Make-up

Pots, steps, etc...

BRANDS

Meraki

Inuwet

Kenko

Alma

Liewood

Konges Slojd

MEALTIME

MEALTIME

Dinner sets and plates

Accessoires

Gourds, Glasses & Cups

Bibs

Zero Waste and picnic

Bottles

Ice cream and cake moulds

BRANDS

Haps Nordic

Konges Slojd

Liewood

Élhée

Parents

PARENTS

Bags and kits

Woman

Care

Nursing cushions

Men

Going out with baby

Topic

SEE ALL

Lemon

Cherry

Mon Amour

Dinosaur

Shell

Peach

Christmas night

Summer

SEE ALL

Beach and sand toys

Garden and nature toys

Inflatables, buoys, swimming pools...

Beach sandals and flip-flops

Foutas, towels

Bottles

Caps, hats

Sunglasses

Anti-UV swimsuits and t-shirts

Protections solaires

BRANDS

Blafre

Elle Porte

Garbo&Friends

Hello Hossy

Konges Slojd

Liewood

Linea Mamma Baby

Meraki

VanPauline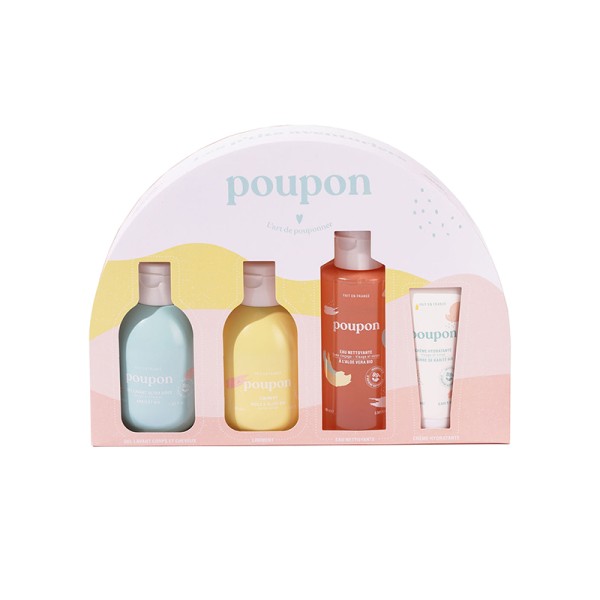  
Discovery Box " The Little Adventurers" Poupon
Discovery Box " The Little Adventurers" Poupon
Benefits: 
- Hypoallergenic 
- Adapted from birth
- Dermatologically tested
Discover 4 mini-formats that will follow you everywhere! Whether you decide to go a weekend in the mountains, a week by the sea or even for the craziest to take the plane, this box "Les P'tits Aventuriers" of the brand Poupon is for you. The kit consists of a 100 ml body & hair wash gel. It gently cleanses your children's body and hair for clean, soft and delicately scented skin. You will also find cleaning water with a capacity of 100ml, this one gently cleanses the face, the baby's body while protecting his skin from drying out. There is also the liniment 100 ml N, which cleans the baby's buttocks while protecting it from the aggressions related to the humidity or friction of the diapers. Finally, you will find in this box "Les P'tits Aventuriers", the 25 ml face & body moisturizer that helps nourish and protect your baby's delicate skin by making it more supple and softer.
Our recommendations for proper use of products: 
- For Cleansing Gel: Apply to wet baby's skin and hair and lather gently before rinsing with clean water.
- For the liniment: Shake well before applying each change with a cotton.
- For Cleansing Water:  Gently clean the face, baby's body
- For the Moisturizer: Apply once or twice a day, on a skin previously cleaned and dried.
Discover all our essentials to store and easily access your care products.
Poupou offers natural care for babies and children. Their priority? To respect the fragile and delicate skin of toddlers! Suitable from birth, all formulas are hypoallergenic and tested on sensitive skin, under dermatological and ophthalmological control. 98 to 100% of the ingredients are of natural origin; all controversial active ingredients have been banned from the products! Poupon is committed to a more responsible lifestyle, all packaging is made from recycled or natural materials, they are all 100% recyclable! The products are entirely made in France.  What's special about Poupon? A unique olfactory signature with floral notes based on orange blossom and white musk, developed by a nose exclusively for the brand. Colorful products with rounded shapes create a unique universe around your children!